Chemicals production in 1961-2004
Raisio's Chemicals Division can be considered to have started up in 1961, when the first separate factory unit for chemical production was completed. The oil milling plant and the mill already of course manufactured a number of chemical products such as varnish, some technical oils and wheat flour for glue production.
Products made by the fats chemistry unit included distilled fatty acids for the soap, detergent and candle industries as well as fatty amines, or reprocessed fatty acids.
In 1971, production of latices used to coat printing paper began in Mietoinen, near Raisio, launching the Raisio's cooperation with the paper industry.
Completion of a wheat starch plant in Raisio in 1976 gave the Chemicals Division a real boost. Eight years later, the Group bought Finland's largest potato starch processor, Hämeen Peruna Oy, making Raisio Finland's leading manufacturer of starch and processed starch products.
Starch serves as an important raw material in a range of reprocessing applications. The group's own starch production provided a solid foundation for the vigorous growth of its Chemicals Division, steering it more and more towards production of binders and special chemicals for the paper industry.
Raisio's first foreign production plant, a starch processing plant called Raisio Aktiebolag, began operating in Sweden in 1981. Since then the production expanded to Europe, USA and Far-East.
In autumn 2003, the Raisio Board reassessed the vision and strategy and Raisio's resources were decided to focus on developing the Nutrition and Life Sciences businesses. Therefore, it was decided to find a new industrial owner for Raisio Chemicals and in the summer 2004 Raisio Chemicals was sold to Ciba Specialty Chemicals.
Benecol®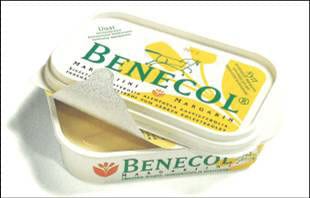 At the end of 1995 the publishing of Benecol® innovation attracted international attention. On 16 November 2005 celebrated Benecol's 10th anniversary. In 2008 Benecol® products were launched on the Asian Market: in India, Indonesia and Thailand. On the same year the European Food Safety Authority (EFSA) issued a positive scientific opinion on a disease risk reduction health claim of plant stanol ester. The Ministry of Health of the People's Republic of China gave a New Resource Food approval to add plant stanol ester to foodstuffs marketed in the country.
Plant stanol ester was selected as one of the ten greatest discoveries in nutrition worldwide in European Journal of Clinical Nutrition in January 2009.
New clinical studies on plant stanol ester were published during 2013. In the same year Benecol® products were launched on the Hong Kong and the Philippines market. The products were launched in Brazil in 2014 and in South Korea in February 2015.
Since the Benecol® acquisition from the affiliates of Johnson & Johnson in November 2014, home markets for Benecol® consumer products are the UK, Ireland, Belgium, Poland, Finland, Portugal and Hong Kong, Benecol® products are sold in almost 30 countries and Benecol® is the best known brand for cholesterol-lowering foods.